e
Hello Friends here is One More tutorial about hacking Myspace , Hotmail, MSN, Yahoo accounts with easy as 1 2 3 . In my previous article, I mentioned about Winspy and Armadax Keylogger for
Hacking hotmail, yahoo, myspace or msn account password.
After that Post I received Huge reader's response and Today i am Introducing a New and very effective keylogger namely Vicspy keylogger - the keylogger tht I found extremely Good and user-friendly for hacking hotmail, yahoo account passwords. I have provided link for software download and password ... So Enjoy and Let's Begin the Tutorial
Hacking Hotmail, Yahoo, MSN account password:
Password: techotips.blogspot.com
2. Extract the Rar to obtain Vicspy keylogger.

3. Simply run peditor.exe to get keylogger interface and create a keylogger for hacking hotmail, yahoo and msn account password. No need to install software on computer.
4. Now, in Servers , fill in the FTP server which you wanna use to receive logs from keylogger.

Fill in ftp server as:
where:


# user

: your username at ftp server.


# pass

: your password.


# logs

: create a new folder named "logs" at your ftp server. You will receive hotmail, yahoo and msn hacked passwords in this folder.


# ftp.example.com

: your ftp server address. (eg: ftp.drivehq.com for drivehq ftp server)

After you have completed filling ftp server, hit on "Check" just adjacent to it to check whether you have entered ftp server correctly and whether server is available.

5. In Control, check "Melt" to make keylogger evaporate after installation on victim computer.

6. Additional Options included in Vicspy keylogger are that you can
- Change keylogger file icon
- Bind keylogger with another file to make it undetectable by victim.

7. Now, simply choose the path where you want keylogger to be saved and hit on "Create" to create keylogger file at preferred destination.

8. Now, send this file to your victim and make him to install this binded keylogged file on his computer (Social engineering). You can crypt this keylogger file and then use Fake error message generator to make our keylogger undetectable by antivirus.

Once the victim installs keylogger on his computer, you will start receiving all typed passwords on his computer in your FTP server account (in logs folder). Thus, our target of hacking hotmail, yahoo, msn account password accomplished.

That's ALL About Vicspy Keylogger for hacking hotmail, Yahoo and msn account password. Vicspy keylogger can also be used for hacking myspace, gmail, orkut and other email account passwords. If you have any problem in using Vicspy keylogger for hacking hotmail, yahoo or msn account password,

please mention it in comments.
20 Facebook Hacks and Tips You Might Not Know via Hongkiat
If you surf Facebook on daily basis or occasionally, chances are you're already familiar with regular stuffs like add/delete friends, update statuses, walls and profile, add and explore pages & applications, etc, but there's more..
This week we want to cover some interesting things you can do on (or with) Facebook; inclusive of tricks that are not documented or unknown to many, as well as tips to stay connected better with your friends. Without further ado, here's
20 Facebook Tips/Tricks You Might Not Know
. If you have interesting tips/tricks related to Facebook, please feel free to share in the comment box below.

If you are using Firefox, you can place the Facebook Chat at the sidebar.






How to Download Facebook Photo Albums

FacePAD: Facebook Photo Album Downloader allows you to download your friends' facebook albums, Events albums, and Group Albums, en masse, with the click of a button.






How to Share Flickr Photos to Facebook

Flickr2Facebook is an unofficial Flickr to Facebook uploader(bookmarklet) which allows you upload photos to Facebook from Flickr.






How to Update Facebook without Using Facebook

hellotxt and Ping.fm both introduced features that let Facebook administrators update Facebook Pages.






How to Schedule Facebook Messages

Sendible lets you schedule Facebook messages ahead of time so you can send messages to your friends, customers or colleagues in the future.




A short tutorial on Makeuseof to guide you how to hide Facebook status updates and keep that fact confined to your closer friends.




Click on Friends tab. Proceed to More tab. From "Choose an option" dropdown, choose any of the dashes "—" . Your Facebook friends collage is right on your computer screen.






How to Know When Facebook Friends Secretly Delete or Block You

X-Friends is a unique tool for tracking friends that disappear from Facebook.






How to Display Selected Pictures Only on your Facebook Profile Page

A little-known feature in Facebook that lets you decide who shows up in that Friends box. Click that "edit" pencil in your Friends box and type the names of your best friends in the box that says "Always show these friends"






How to Remove Facebook Advertisements

This Greasemonkey script – Facebook: Cleaner removes many of the annoying ads and updates that unavoidably appear on your Facebook pages.






How to Syncs Photos of Facebook Friends with Contacts in Microsoft Outlook

OutSync is a free Windows application that syncs photos of your Facebook friends with matching contacts in Microsoft Outlook. It allows you to select which contacts are updated. So you can update all contacts at once or just a few at a time.




The following method make use of Facebook status feed and Wordpress RSS widget to display Facebook Statuses on WordPress blog.. It will also work for self-host Wordpress blogs.






How to Post Your Blog Posts to Your Facebook Wall Automatically

Wordbook allows you to cross-post your blog posts to your Facebook Wall. Your Facebook "Boxes" tab will show your most recent blog posts.






How to Access Facebook Chat on Desktop

Gabtastik and digsby let you keep Facebook chat sessions open on your Windows desktop outside of your regular web browser, using minimal screen real estate and system memory.






How to Create Quiz on Facebook Easily

LOLapps provides quiz creator that can be employed to conjure up these popular personality quizzes that are so widespread in Facebook.




Facebook has integrated friends list with Chat and you can also choose which of these list members get to see you online.






How to Get Facebook Updates on Email

NutshellMail consolidates your Facebook accounts through the inbox you use the most.






How to Update Facebook Status from Firefox

FireStatus is a status update utility for multiple social networks, including FaceBook.






How to Get Facebook on Your Desktop

Seesmic Desktop, Facebooker, Xobni, Facebook Sidebar Gadget, Scrapboy and Facebook AIR application are desktop applications that allows you interact with your stream just as you would on Facebook, but without the browser.




A simple guide to terminate, delete or cancel Facebook account, together with the Facebook profile easily.




DON'T FORGET TO SAY THANKS !
Facebook Friend Bomber 2.0.1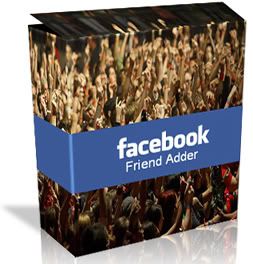 1. Mass Facebook Amber Alerts (New)
2. Mass Facebook Friend Requests
3. Mass Facebook Friend Messages
4. Mass Facebook Friend Pokes
5. Mass Facebook Wall Poster
6. 100% CAPTCHA Bypass*
7. Single & Unlimited Licenses
http://uploading.com/files/JYAL0JJC/Facebook_Friend_Bomber_3.0.rar.html